FWG Books
Fore Women Golfers
FREE Books !
Women Golfers Are Real Golfers
and
Real Men Golf With Women
Women Golfers Are Real Golfers
By Rosiland Bivings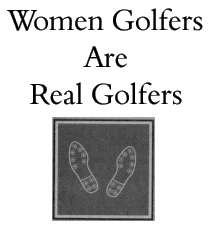 "Women Golfers Are Real Golfers" is written by the entrepreneurial author Rosiland Bivings. The book is an experienced look at life for women golfers filled with advice for beginners and women wanting to start playing again.
Bivings says it was written to show that women belong on the golf course and just need a little encouragement to stay. "Most golf books are written by professionals and they don't ever talk to the beginner or average player. I'm just like other golfers and I lend that perspective through this book to try to inspire women.", said Bivings.
Free! (you pay s&h)
---
Real Men Golf With Women
By the Phantom Golfer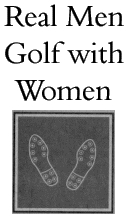 The second book published by Fore Women Golfers entitled "Real Men Golf With Women" was written by The Phantom Golfer. The Phantom, according to Bivings, is not herself as people may think, but another woman golfer and a former television golf segment writer of the same pseudonym. The book is billed as A light hearted look at bridging the golfing gap between men and women. "It knocks men around a bit but it is not male bashing. It is a satirical book about golfers of both sexes.", states Bivings. She is looking for women golfers interested in being The Phantom for the next edition due out in 2011.
FREE! (you pay s&h)
---









Home | News | Courses | TV | ProShop | Orders | Site Map | Mail
Send mail to info@womengolfers.com with questions or comments about this web site.
Copyright © 2011 Fore Women Golfers
All rights reserved.