Fore Women Golfers Adds NexStepGolf.com In Exclusive Offer!
LPGA Teaching Professional Dori O'Rourke Brings New I-Swing Teaching Method to help women and men golfers play the game of a lifetime! Order Your Video Now!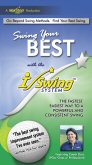 Don't be one of the 2 million people who give up golf each year. Instead, find your Instinctive Swing and enjoy a swing that is powerful, consistent and feels great!

This groundbreaking video demonstrates the ONLY swing that fits you and your body perfectly - your Instinctive Swing. You won't find it by dabbling with different swing methods. Let renowned LPGA Teaching pro, Coach Dori O'Rourke, teach you the 3 simple steps of the I-Swing System and get you swinging the I-Swing way - instinctively!

This comprehensive video includes:

* Getting Started with the I-Swing Coach - the best tool for the I-Swing System
* Coach Dori using the I-Swing System with students
* An interview with PGA Tour Legend, Lee Elder
* Humorous Outtakes
* And, so much more!

This video is guaranteed to help you improve your swing in the fastest, simplest, easiest way possible!
Go To Fore Women Golfers' Special Order Section by Clicking Here to Receive Your SPECIAL DISCOUNT at NexStepGolf.com

Order NexStepGolf Now!
Copyright Fore Women Golfers
2003-2011 All Rights reserved. Privacy Policy